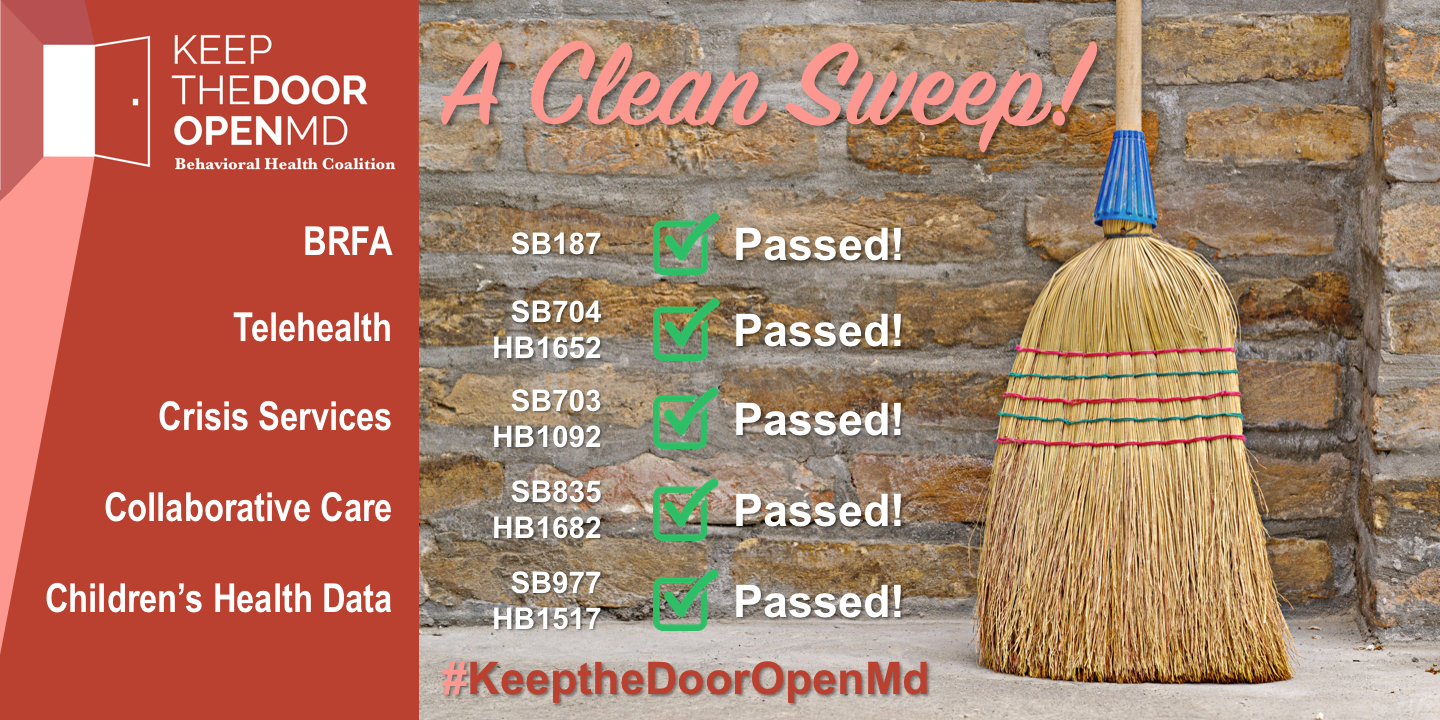 The Behavioral Health Coalition applauds the General Assembly for successfully passing our entire 5-point legislative agenda. The package of bills expands crisis treatment and telehealth services, improves data transparency and outcomes measurement for Marylanders receiving behavioral health care.
"Going into the 2018 session, our members set a very ambitious agenda because we simply must increase access to critical behavioral health treatment in Maryland," said Dan Martin, senior director of public policy for the Mental Health Association of Maryland. "The General Assembly agreed and passed each of our four Keep the Door Open priority bills with bipartisan support. Now we must build on this momentum and keep working to reach Marylanders in need in our communities, our workplaces and our schools."
The Behavioral Health Coalition's legislative agenda contained five key initiatives, designed to support the behavioral health workforce, expand access to treatment, and improve outcomes measurement and data transparency:
SB187 – Budget Reconciliation and Financing Act (BRFA). The amended BRFA provided full funding for behavioral health provider reimbursement rates, restoring an $8 million cut.
SB703/HB1092 – Establishes a Behavioral Health Crisis Response Grant Program with three years of funding: $3 million in FY20, $4 million in FY21 and $5 million in FY22.
SB704/HB1652 – Expands access to telehealth services to include psychiatrists who are providing Assertive Community Treatment.
SB835/HB1682 – Establishes a Collaborative Care Pilot Program to improve behavioral health treatment received in primary care.
SB977/HB1517 – Improves children's behavioral health data collection to enhance treatment services for Maryland youth.
Earlier this year, the General Assembly finalized the Fiscal Year 2019 budget, which rejected a proposed $8M state general fund cut to behavioral health provider reimbursement rates and restored full funding as required in the 2017 HOPE Act – an action that also secures an additional $8M in federal matching funds.
"Last year, the HOPE Act required increased funding for behavioral health providers, so they could address the dramatic increase in demand for treatment services," said Shannon Hall, executive director of the Community Behavioral Health Association. "We are pleased the General Assembly stepped up to honor this commitment and support our behavioral health workforce."
As Maryland continues to look for solutions to the opioid crisis, several of the Coalition's priority bills will result in increased access to behavioral health treatment, through new crisis centers and telehealth services. Advocates say this is important to help reach the many Marylanders who need support for substance use disorders.
"The opioid crisis is everywhere in Maryland," said Dr. Nancy Rosen-Cohen, executive director of National Council on Alcoholism and Drug Dependence – Maryland Chapter.  "We know behavioral health treatment and recovery works and we need to be able to reach Marylanders in need all across the state, wherever they are."
Advocates were also pleased that Maryland's elected officials acted in a bipartisan way to improve access to behavioral health treatment.
"The legislative victories this year will help us keep up the momentum in the years to come," said Dan Martin. "We have much more work to do."